Advances in Scar Revision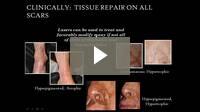 Dr. Jill Waibel discusses the latest advances using CO2 to treat scars.
Presented by: Dr. Jill Waibel

Techniques, Pearls & Management of Complications of Fractional Laser Resurfacing & Blepharoplasty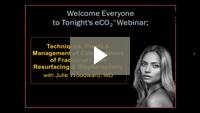 Presented by: Dr. Julie Woodward

PRIME JOURNAL

VERSATILE AND REMARKABLE eCO2 PROVIDES REMARKABLE RESULTS

NBC 7 San Diego

Using a Lunch Break to Stay Young

ANGEL FACES

AN EVENING WITH ANGELS: WHERE WOUNDED GIRLS GIVE THANKS FOR SKILLS TO TAKE ON THE WORLD

CLINICAL ABSTRACT
eC02 Series
High Speed Fractional CO2 Laser
UNCOVERING YOUTH
ONE PATIENT AT A TIME
ECO2 LASER
Zoom
Transform Your Practice with the Robust eCO2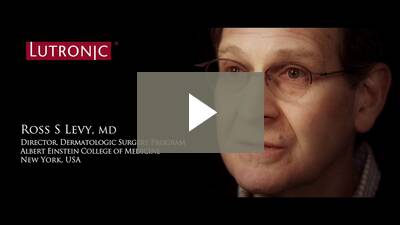 Lutronics eCO2 is the premier fractional ablative laser that delivers the full spectrum of resurfacing treatments to your busy practice. You will appreciate how easy to use and reliable the system is while your patients rave about their outcomes.
MINIMAL DOWNTIME & LESS DISCOMFORT
Textural Irregularities
Dyschromia
Solar/Actinic Elastosis
Nevus
Incision & Excision Capabilities
More...
MINIMAL DOWNTIME, IMPROVED PATIENT COMFORT, INCREASED SAFETY
The eCO2 features the patented Controlled Chaos Technology (CCT™), an algorithm to pseudo-randomly deliver each micro laser beam and by placing maximum distance between sequential beams the system eliminates cross thermal diffusion between adjacent Micro-ablative Columns (MACs).
This allows the tissue to maximize heat dissipation between shots. The result is an increased safety profile with a reduction in post-operative discomfort and faster healing time leading to unparalleled fractional resurfacing results.

CCT™ reduces thermal damage by
maximizing distance between laser micro-beams

ULTIMATE CONTROL OVER ENERGY DELIVERY
DYNAMIC MODE
STATIC MODE

Dynamic Mode completely eliminates the checkerboard look of other CO2 systems and provides clinicians with a more comfortable operation by allowing the user to 'Air Brush' the energy. Whether you are treating large areas or just feathering to eliminate demarcation lines, Dynamic Mode provides your patients with a more natural look.

Static Mode allows for traditional 'Stamping' which allows users to treat scanned areas of 14 x 14 mm with selectable density options to enable precise delivery of laser energy without the need for multiple passes other systems require.
QUICK-CHANGE TIPS WITH AUTO-RECOGNITION
From ultra-deep to superficial ablation, the eCO2 has the features you need to address a broad range of clinical conditions. The ultra-fast quick change tips come in a choice of three spot sizes, 120 and 300 μm, allowing you on-the-fly customized treatments. The eCO2's tip auto-recognition feature automatically changes treatment settings to adjust for the change in spot size. Combined together, the advanced technology, quick-change tips and safety features ensure the ultimate control for the best outcomes.
120 µm Spot Size

Deep Dermis penetration
1-17% coverage per pass
Rapid Healing Times


The eCO2 sets itself apart from
the competition with up to 2.4 mm
of ablation depth.
300 µm Spot Size

Mid Dermis Penetration
5-58% coverage per pass
Wider, intermediate ablation depth
CONVENTIONAL HANDPIECE
ECO2 PLUS includes the 0.2 mm-1.0 mm zoom handpiece for incisional & excisional surgical procedures to fully ablative skin resurfacing needs.
MINIMAL DOWNTIME & LESS DISCOMFORT
Blepharoplasty
Skin Tags
Warts
Syringoma
Actinic Cheilitis
Actinic Keratosis
And more!
Zoom Handpiece
• Beam size: 0.2 mm - 1.0 mm


WHY eCO2
Patients are attracted to low risk, minimal downtime treatments
Controlled Chaos Technology creates pseudo-random microwound patterns to minimize heat build-up, minimize downtime, increase safety and maximize patient comfort
Ergonomic and compact design
Proven reliability
Easily adjust treatment parameters through intuitive and user-friendly interface
Capable of delivering fractional, full field ablative, incisional and excisional laser treatments
Two energy delivery modes (dynamic and static) further increase versatility and control over outcomes
No consumables reduces operating cost and improves ROI